Alamo Heights Presbyterian Church
|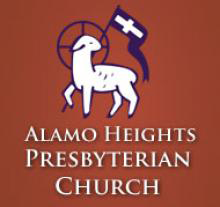 Alamo Heights Presbyterian Church
6201 Broadway
(210) 824-0271
http://alamoheightspres.com
---

Alamo Heights Presbyterian Church in San Antonio is a part of the Presbyterian Church and is part of the Reformed family of Protestantism, descending from the branch of the Protestant Reformation over which John Calvin had a strong, early influence.The Presbyterian Church is a mainline Protestant Christian denomination in the United States. Our church is in Mission Presbytery, a connectial body of 152 churches, fellowships, and new church developments in South Central Texas.
Our Pastor, Rev. Dr. Richard O. Knott, Jr, an ordained Presbyterian minister in the Presbyterian Church (USA), holds a B.A. in History, from Belhaven College, a Masters and Doctorate from Austin Presbyterian Seminary. He has been the Senior Pastor of Alamo Heights Presbyterian Church for 28 years.
Alamo Heights Presbyterian Church hosts a variety of non-Sunday educational activities. Some of those events include SAT prep courses, martial arts, fly tying and fishing seminars, support groups for substance abuse, one of the largest scouting troops in the state. The Session has adopted an open door policy regarding educational events.
One of the central contributions to education that Alamo Heights Presbyterian Church makes is the Day School. Operating at full capacity the Alamo Heights Day School has become known as a school where wholeness is not only taught but is demonstrated.
"Glorifying God and sharing the teachings of Jesus Christ we build a community of hope and wholeness through worship, education, service and fellowship." – Mission Statement of Alamo Heights Presbyterian Church
You are invited to help us celebrate our over 100 year history as an Alamo Heights church and visit our church family.
Click below to view a recent service at Alamo Heights Presbyterian Church.
---
---
Categories: A, North, Presbyterian