Windsor Park Assembly Of God
|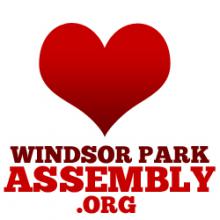 Windsor Park Assembly Of God
7620 Ray Bon Dr
(210) 655-4261
---
Here at Windsor Park, you will find the warmth and sharing of God's love among our church family.  We believe nothing creates a better worship atmosphere than knowing you are loved.  Because Christ first loved us, we are able to love each other.  This same love, we desire to share with you!
To aquaint you with our beliefs and activities, please browse through our site.  We believe you will find a sense of communion here with us and with our Father in Heaven.
God is calling Windsor Park Assembly to commit ourselves to the three Scriptural purposes for the local church, ADORATION, EDIFICATION, and EVANGELIZATION.
Adoration:
The first and foremost reason for a Christian fellowship.  Jesus said that the greatest commandment is to "Love the Lord your God with all your heart, soul, mind, and strength".  Therefore, to answer the age old question of "What is the purpose of mankind?", we simply say "To love God and glorify Him forever".
Edification:
The building up and strengthening of believers.  We also plant the Word in the hearts of this body so we can disciple those in the Lord.  We also believe God raises up intercessors to prevail against the Kingdom of darkness.
Evangelization:
Taking the Good News of Jesus Christ to those who have not experienced His love.  We want to give sacrificially of ourselves and our resources to reach a hurting world.
---